---
Just Because We are Poor Does Not Mean We Should Be Treated Poorly
Members of the Southeast Environmental Task Force were recently invited to an event hosted by the Poor People's Campaign in Madison, WI. Here we republish the speech Oscar Sanchez gave at the event.
Thursday, March 31, 2022, 6:20 PM
Hola hola. My name is Oscar Sanchez, I participated in a 30 day hunger strike with our coalition made up of community members in the Stop General Iron campaign.
And if you aren't able to tell, I am here filled with love and joy in being able to stand in solidarity in the fight that we share in Chicago.
I'm from the Southeast side of Chicago, a low-income Black and brown community that has been a sacrifice zone to the city for far too long.
The mentality we grew up with was "keep your head low, and don't raise any attention." We see our environment and become accepting of it because it's what we grew up with and have become familiar with, but somewhere along we all come to a realization that we are deserving of better and that in order to achieve that, we have to speak up.
Just because we are poor does not mean we should be treated poorly.
We are deserving of a system that is not dependent on the suffering of others. We are deserving of a system that addresses our needs, a system that allows our children and future to exist without a 30 year life gap difference because that's what we see in Chicago between the North Side and South Side.
We constantly fight the sources of trauma in our community. Violence that we carry through our lives and violence that shows the difference in our qualities of life.
I was raised by an undocumented single mother. Now my mother would always say, "we don't have much, but at least we have each other," these are the words she'd say to me every time she'd drop me off at a classmates house, family members house, or neighbors houses, she'd say this when she would grip my hand as we went thrift shopping, visited food pantries, or heading to prayer.
So for me, we had everything due to the community. My mother and I were never alone. We are never alone.
We owe it all to our community, the people constantly fighting for the communities that we deserve.
We are not alone in this struggle and we are not alone fighting. Community to me, means we have each other.
So when a serial polluter and the city of Chicago created a back door deal to move their operations from the north side with a rich white community to the southeast side a Poor black and brown community, we fought. After months of protests, community teach-ins , we decided to go on a hunger strike.
The same people who set up mutual aid systems at the beginning of the pandemic were the ones in the frontline of this fight, and we put our lives on the line To disrupt this system from doing what it was meant to do; disregard our lives.
I am here to say we won, because when the people fight, the people win and we will continue to fight racism with solidarity. We will continue to fight poverty with solidarity. We will continue to fight.
There is no justice without restoration There is no justice without reparations We demand justice against the violence that all of our communities face every day.
We are fighting for the communities we deserve and we are fighting for restorative Justice.
Marching to the heartbeats of those before us We are the product of those who challenged a system that is not meant for us, My brothers, sisters, my siblings, I want you to remember this, The promised land is coming, And it will come from our bravery and anger rooted in love, rooted in community. So remember we have each other.
<< All articles
About the Author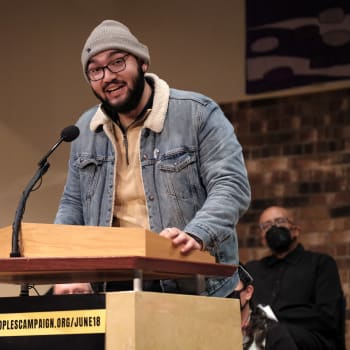 Oscar Sanchez is a resident of Chicago's Southeast Side. He currently works at the Southeast Environmental Task Force as the Community Planning Manager. During the General Iron Campaign he participated in a 30 day hunger strike.
---